cPanel Web Hosting in Ghana
Fast, Affordable and Unlimited
G Online Sites provide world class Web Hosting with data centers in UK, USA and France
Premium cPanel web hosting service delivers a powerful and proven platform that's perfect for hosting your websites with Ghana's leading and favorite web hosting provider 'G Online Sites'.
Free 1-Click Scripts Install
Our 1 Click Installer via softaculous allows you Quickly Install WordPress, Joomla, Drupal, Laravel, Help Desk, forums and over 300+ more applications on your web hosting account.
Robust cPanel webhosting in Ghana for personal, professional, business to enterprise, and e-commerce needs.
Standard
GH¢100.00
Yearly Package
Host 1 Website
Unlimited Disk Space
Unlimited Bandwidth
Unlimited Emails
Unlimited Subdomains
Unlimited Databases
Unlimited FTP
Free Website Backup
99.9% Server Uptime
High-end Server Security
24/7 Customer Support
Fast SSD Servers
Daily Backup
Choose Plan
Advanced
GH¢300.00
Yearly Package
Host 10 Websites
Unlimited Disk Space
Unlimited Bandwidth
Unlimited Emails
Unlimited Subdomains
Unlimited Databases
Unlimited FTP
Free Website Backup
99.9% Server Uptime
High-end Server Security
24/7 Customer Support
Fast SSD Servers
Daily Backup
Choose Plan
Premium
GH¢500.00
Yearly Package
Host Unlimited Websites
Unlimited Disk Space
Unlimited Bandwidth
Unlimited Emails
Unlimited Subdomains
Unlimited Databases
Unlimited FTP
Free Website Backup
99.9% Server Uptime
High-end Server Security
24/7 Customer Support
Fast SSD Servers
Daily Backup
Choose Plan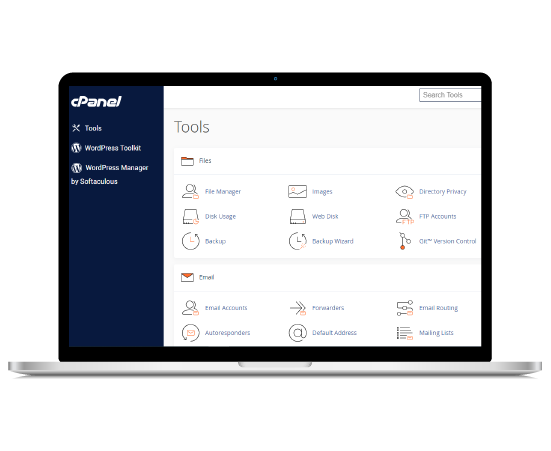 cPanel - Industry Leading and User-Friendly Control Panel
cPanel is one of the most popular Linux-based graphical interfaces (GUI) that allows you effortlessly manage your website and hosting account. With cPanel, you can perform actions from a very easy-to-use dashboard without running a list of complex commands. Our Linux shared web hosting plans include cPanel that allows you perform these tasks with ease: ✓Manage Websites & Domains ✓Create & Maintain Databases ✓Email Accounts ✓Install Software ✓Upload & Download Files ✓FTP Accounts & more
cPanel Web Hosting with Exceptional Features
Free SSL Certificate
All Linux shared hosting plans are encrypted with SSL certificate that keeps your website's sensitive information that you send across the internet encrypted. While dealing with confidential data such as credit card number, passwords, IDs, bank account number, etc, SSL protects you against the hackers and skimmers.
Pure SSD Storage
Servers powered by SSD drives make your website 20x faster than the traditional spinning drivers. Flash memory used in SSDs makes your website stand strong against extreme temperature and other mechanical failure. Also, SSD storage consumes less power supply than HDD storage, which helps you to save your hosting cost.
Latest PHP and MySQL
To keep your script running seamlessly, we provide you latest PHP and MySQL versions. With cPanel hosting plans we make sure you are able to run the most recent version of PHP. It is our responsibility that you get access to the most recent and most compatible versions of PHP (v5.6, v7, v7.1, v7.2, v7.3, v7.4, v8, v8.1) and MySQL.
Free Site Builder
Site builder tool is easy to use. Just select a template and add your content/images to create a website of your dreams. There are more than 400 professional and responsive website templates available for your selection.
1-Click Installer
Softaculous, 1-click installer enables you to install over 300+ applications like WordPress, Joomla, Drupal, Open Cart, Magento, Node Js, Python, Laravel etc. The tool is integrated into cPanel offered with cPanel hosting plans.
Secure Email Accounts
To secure your email communication it is supported with the POP3/SMTP/IMAP protocols. With the help of email clients or webmail, you can access the emails of your account.
Tight Protection Against Malware
Our experts act like ninjas to keep a close watch on the systems, to protect it from internal and external malware. Websites are auto scanned on a daily basis and if any threat is found we fix it for you to give you the extra piece of mind.
Licensed cPanel
Create and maintain database, upload and download files or edit, create and delete files. cPanel license on your web hosting allows you to manage every aspect of your cPanel hosting account.
Not sure what plan to choose?
Our Web Advisors Are Online to Assist
24/7 Customer Support
Our Team of Experts are available via Live Chat, Phone, Email and Tickets to respond to issues and enquiries
30 Day Money Back Guarantee
Its a win - win. You get your money back if you are not satisfied with our service. Get a refund in 30 days.
Experience in Security
Get your web contents secure and say no to hackers and data breach. We are trusted by our years of experience
We carry more than just good coding skills
Let's Build Your Website!
What is cPanel?
cPanel is server-management software that provides an interface to create, edit, backup and even move your website in your browser. It also enables you to create FTP users and email accounts, optimize your website for search engines, install software and track your Web hosting resource usage.
How does cPanel perform Versus the Competition?
While other control panel options exist, most web hosts use cPanel, which can make moving between hosts easier than you ever imagined. cPanel uses a friendly graphical user interface that is comfortable even for new website owners, and old pros will find everything they need to do is possible with cPanel. Customization options also set cPanel apart from the competition.
Why should I choose cPanel Web Hosting?
cPanel hosting is a tried-and-true method of managing a website. Constant use has honed its functionality down to the most powerful tools available while at the same time making the presentation easy to understand and master. cPanel gives you, the webmaster, ultimate control over the content and presentation of your site - databases are no exception, tap into the inner workings of your site, or leave it to more experienced hands via outside apps while at the same time holding on to the final say.
When you work with cPanel, you're working with a choice - your website becomes and stays yours, enabling you to work with its content and presentation as much or as little as you want. Devote your time where you want to do so, not where you have to. Where other web management software forces you to learn its inner workings in order to be able to perform the simplest of tasks, cPanel's graphic nature and intuitive presentation ensure that you won't have to constantly be referring to documentation and message boards to accomplish the tasks you want.
What application does cPanel hosting support?
1 Click install the most popular software to your account with a few clicks of your mouse. There's no need to upload or download files. Softaculous will just walk you through installing the software with a few simple clicks of your mouse. Easily install solutions like WordPress, Drupal, Joomla, Magento, OpenCart and more to your account. Just some of the options included are:
Blogs - WordPress, Nucleus, b2evolution and more
CMS - Joomla, Drupal, MODX, Concrete5 and more
eCommerce - AbanteCart, PrestaShop, OpenCart, Magento, osCommerce and more
Project Management - Mantis, eyeOS, Feng Office, phpCollab, Traq and more
Frameworks - Laravel, CodeIgniter, yii, Booststrap, CakePHP and more
Will I be able to access my website for updates?
You will get the unlimited access for 24 hours a day via FTP and File Manager from cPanel. With this, you can create and maintain your website pages on your own system and can upload files to your website at your choice of time.
Can I host my website which is created in ASP.NET on Linux shared hosting?
No! We do not support ASP.NET or windows hosting services mainstream at the moment but available on demand. To request, use the LiveChat
Are any databases available on the web server for my use?
Yes, we have MySQL database available on our Linux shared hosting plan.
Can I protect some parts of my website with a password?
Yes, in cPanel you have the option to password protect your directories.
How can I manage my website using a cPanel for my Linux shared hosting account?
You can log in to your cPanel using the username and password provided to you at the time your account was created via Email and SMS. Once you get the login to your cPanel, you will be able to manage your website effectively.
What makes 'G Online Sites' the best Linux shared hosting provider?
Business or personal, large, medium or small, we have budget friendly and feature-rich Linux shared hosting plans for all your needs. 'G Online Sites' is your high performance Linux shared hosting provider, that covers from startups to well grown businesses. Our captivating Linux shared hosting plans are capable of supporting you to manage your websites in such a way that will save your time and money.